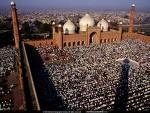 KARACHI, Oct. 26, 2009 (News Agencies) .

After being on the margins of halal trade for decades Pakistan is finally getting all ready to catch up. The chambers of commerce and other organizations have launched a series of info session on the potentials of this trade. The Halal Development Project Pakistan (HDP) is organizing a series of presentations in the market to create awareness.

The series begins this week with a talk by HDP CEO Asad Sajjad at the Islamabad Chamber of Commerce and Industry. This will be followed on the same day at Rawalpindi Chamber of Commerce and Industry.

Business people will be briefed about the potential in the global halal market and the opportunities available for Pakistani companies to boost their exports by using the 'Halal' label on their products.

The Lahore Chamber of Commerce and Industry (LCCI) has arranged a presentation, the third of the series, at its premises on October 28. The presentation to the stakeholders in Multan, Faisalabad, Gujranwala and Dera Ghazi Khan would be scheduled later on, said an HDP spokesperson.