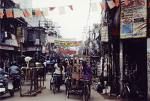 NEW DELHI, Oct. 27, 2009 (News Agencies) .

The stand-off between the Municipal Corporation of Delhi ( MCD) and striking meat merchants in the capital over shifting to a new abattoir intensified today with a top trader community leader threatening an all-India agitation, even as chicken prices went up and meat supply tumbled.

Acting on a Supreme Court order, the MCD had on Thursday sealed the 'halal' section of the 200-year-old Idgah slaughter house and shifted the operations to the new centre at Ghazipur, but the butchers were refusing to move there, citing alleged "lack of facilities" and "unhygienic conditions".

The MCD maintained that there were all latest facilities in Ghazipur and the unit has been constructed following apex court guidelines. "I appeal to the traders not to go for agitation and cooperate with us. We are only following a court order and has no enmity with them," Mayor Kanwar Sain said.