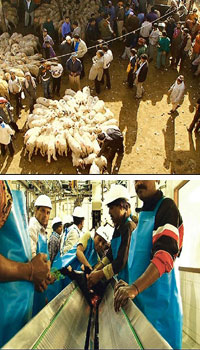 DELHI, June 15, 2009 (News Agencies) .

Several meat sellers associations in Delhi have threatened to go on strike just before the Commonwealth Games if they are not allowed to return to the old Idgah slaughterhouse. The slaughter house was shut down and moved on the outskirts of the city due to hygiene concerns.

The association says that 'electric shocks' are administered to animals before slaughter at the new facility creating doubts and suspicions in the minds of the consumers. This has reportedly led to huge losses.